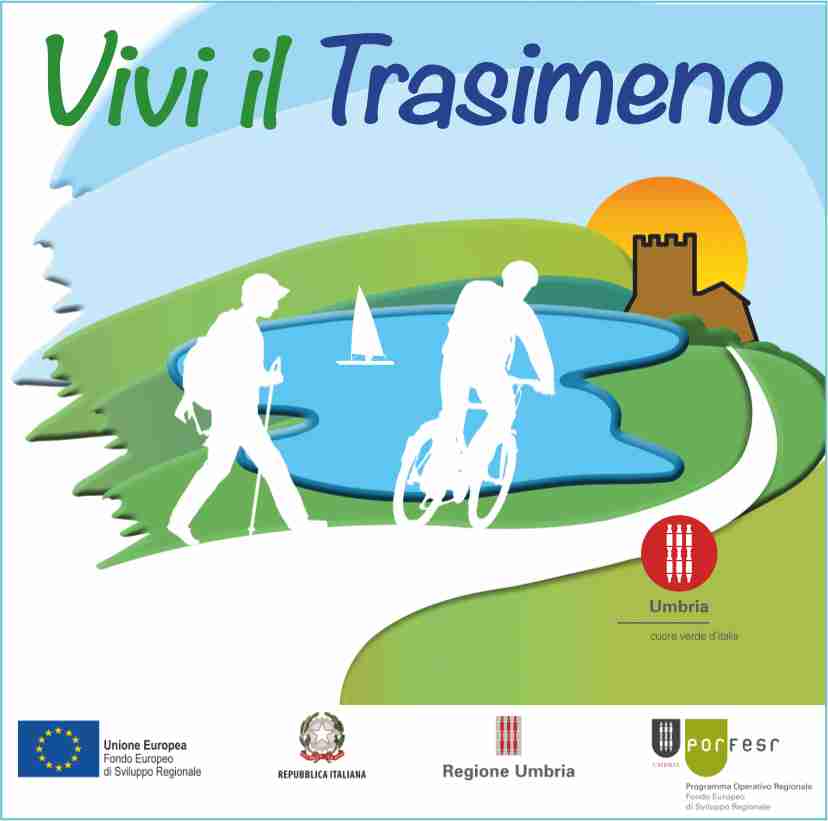 LIVE THE TRASIMENO
BY BIKE ALONG THE LAKE TRASIMENO
FROM € 320,00
In the itinerary By Bike Along the Lake Trasimeno you can discover the plain and hills of Lake Trasimeno, a paradise for bicycle lovers, both mountain bikes and road bikes.
SELF GUIDED PROGRAM
LIVE THE TRASIMENO
5 Days Trip around the Trasimeno Lake
ITINERARY STEPS
Distance: km
Difficulty: Medium
Tour Type: Self-guided
CALENDAR
Period: from April to October
Departure: any day
GET MORE INFO
TELEPHONE
MAIL
ABOUT
The cycle path of the lake together with the dense trail network offer truly splendid itineraries that allow you to discover ancient villages with breathtaking views and to experience the uncontaminated nature of this territory to the fullest in every season.
Itinerary
Day 1: Passignano sul Trasimeno
Day 2: From Passignano sul Trasimeno to Sant'Arcangelo in the morning and Città della Pieve in the afternoon
Day 3: From Città della Pieve to Castiglione del Lago
Day 4: From Castiglione del Lago to Isola Maggiore and return to Passignano sul Trasimeno
Day 5: Passignano sul Trasimeno and departure
Complete Itinerary
Day 1: PASSIGNANO SUL TRASIMENO
Arrival in Passignano sul Trasimeno and hotel accommodation. Time to visit the enchanting old fishermen's village of Passignano that preserves a singular fourteenth-century triangular tower. Possibility of bicycles rent on request at booking with delivery and pick up in hotel.
Day 2: from PASSIGNANO SUL TRASIMENO to SANT'ARCANGELO IN THE MORNING AND CITTA' DELLA PIEVE IN THE AFTERNOON
departure from Passignano to Sant'Arcangelo exploring the picturesque villages overlooking the calm waters of the lake; stop in San Feliciano and Monte del Lago to enjoy an aperitif or just the magical tranquility of these places. Then continue to Città della Pieve without neglecting a new stop in Panicale for a good coffee on its ancient suggestive square or for a lunch in one of the charming restaurants in the village offering traditional or creative cuisine. Arrival in Città della Pieve, one of the most beautiful villages in Italy famous not only for its narrow streets but also for being the birthplace of Perugino, the painter Pietro Vannucci. We recommend a visit to one of his best known works preserved in the Oratory of Santa Maria dei Bianchi, "The Adoration of the Magi". Time for relaxation in hotel and for a delicious dinner in the ancient village.
DETAILS: km 46, +540 m / –310 m
Day 3: from CITTA' DELLA PIEVE to CASTIGLIONE DEL LAGO
After an excellent breakfast we are ready for the new stage that will take us down from the splendid hills of Città della Pieve to Castiglione del Lago, the village that stretches out on the west coast of the lake. Dominated by the ancient fortress dating back to the 12th century Castiglione del Lago is a lively and fascinating village where you can spend time between the beaches and the historic center and where you can stroll among clubs, shops, old workshops to enjoy an excellent aperitifs or a special dinner with the excellent wines of this area.
DETAILS: km 27, +136 m / –332 m
Day 4: from CASTIGLIONE DEL LAGO to ISOLA MAGGIORE AND RETURN TO PASSIGNANO SUL TRASIMENO
Back on the bicycle to the pier for boarding the ferry to Isola Maggiore. This little corner of paradise will be a great discovery for its rich history and idyllic atmosphere. Bicycle ride through the streets of the ancient village where today only 16 people live but which was once a rich and thriving fish center that supplied the entire papal state. The ancient fishermen's village is now non-existent and the castle in ruins but on the main street of the island there are still palaces and a museum dedicated to Irish lace, which is one of the peculiarities of the island! Pheasants in freedom, crickets and cicadas and the silence broken only by the rustle of trees and the sound of the waves make the Isola Maggiore a truly magical and unmissable place! In the afternoon departure by ferry to the north shore of the lake, towards Passignano. (possibility of extending the stay to the Isola Maggiore). Hotel accommodation and time to enjoy the beautiful holiday atmosphere of the village, full of restaurants and cafés on the lakefront.
Day 5: PASSIGNANO SUL TRASIMENO
After breakfast, return the bikes if you rented them and departure.
Price & Date
Price from € 320,00.
It is possible to extend the stay. Extention has to be requested at reservation.
Supplement for single room on request.
Supplement for transfers on request.
Supplement for an english speaking hiking guide on request.
Discount for not transporting luggage is possible and is on request.
Supplement for official guide service from € 90,00 per day, and € 52,00 per half day (max 9 persons).
According to your itinerary and the hotel level you will reserve, we will try to accommodate you in one of our cycling friendly hotels where you will enjoy:
_ Secured garage for bycicles (or possibility to bring your bike to your room).
_ Workshop space with tools and set of keys, pump, assembly stand, lubricant and replacement tubes (with supplement).
_ Laundry service for sporting clothing (or nearby laundry).
_ Bicycle washing area.
_ Late check out for the shower including luggage storage.
_ Balanced breakfast suitable for an important physical effort.
High quality bike for rental - Price:
_ MTB aluminium 27.5 disc Brake  from € 12 per day.
_ MTB 29 hydraulic disc brake from € 20 per day.
_ EBIKE / MTB from € 35,00 including: locker,  tool kit with puncture repair, helmet.
_ Bike Delivery and pick up in hotel with supplement.
_ Assistance with "partner" repair shops.
Trip Details
Accomodation: 4 overnights with accommodation in a double room in classic-category accommodations with the possibility of upgrading where available.
Food: 4 breakfasts, 1 tasting of typical products in Castiglione del Lago.
Other Services Included: ferry ticket to Isola Maggiore and Passignano, luggage transfer every day according to the program, YES Trasimeno Card, GPS tracks and maps of the area, UmbriAction assistance 24h.
Price Does Not Include: city tax, meals when not mentioned, beverages and what is not mentioned above.
Difficulty: Moderate / Average
Category: Self-guided, Biking
Accommodation level: Standard or superior
Attention: the itinerary might change because of bad weather conditions, pandemic, closure days in general
Departure: guaranteed min 2 persons – groups always available on request

Note: rates are valid fromApril till end of October. Other seasons on request