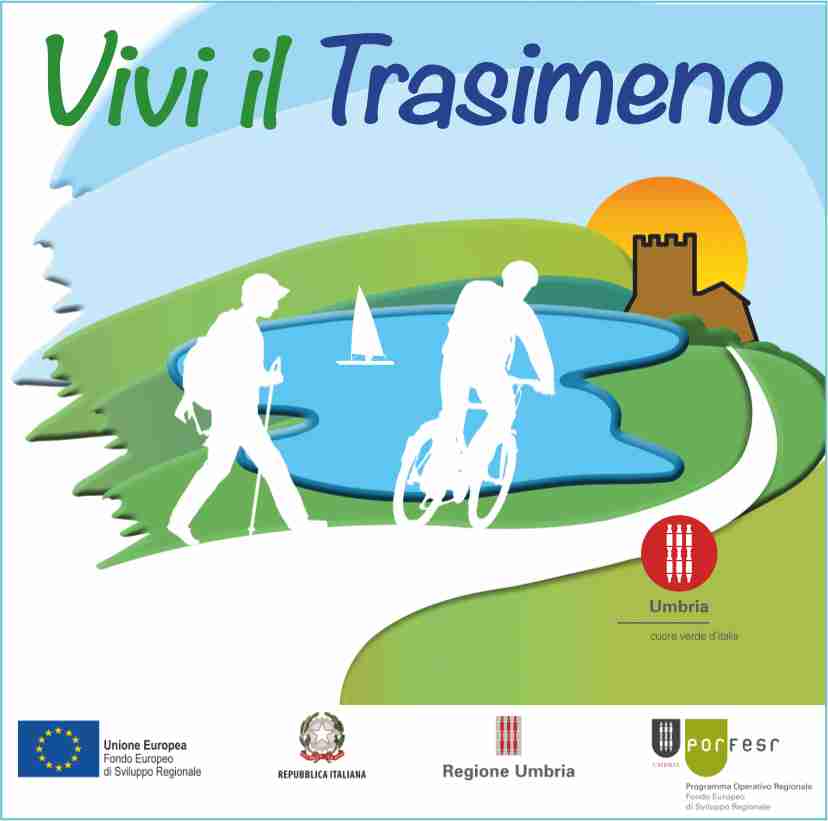 LIVE THE TRASIMENO
MOUNTAIN BIKE AROUND THE LAKE TRASIMENO
FROM € 260,00
The itinerary Mountain Bike around the Lake Trasimeno is an exciting and fun program for mountain biking and wild nature lovers.
SELF GUIDED PROGRAM
LIVE THE TRASIMENO
5 Days Trip around the Trasimeno Lake
ITINERARY STEPS
Distance: 155 km
Difficulty: Medium
Tour Type: Self-guided
CALENDAR
Period: from April to October
Departure: any day
GET MORE INFO
TELEPHONE
MAIL
ABOUT
The area overlooking Lake Trasimeno is truly the kingdom of mountain biking and in this program below you will travel the most fun, varied and scenic trails in Umbria.
Itineraries for different levels are available (programs on request).
Itinerary
Day 1: Passignano sul Trasimeno
Day 2: From Passignano sul Trasimeno to Tuoro sul Trasimeno
Day 3: Panicale - Moiano (surroundings of Città della Pieve)
Day 4: Magione - Colle del Cardinale
Day 5: Gosparini
Complete Itinerary
Day 1: PASSIGNANO SUL TRASIMENO
Arrival and accommodation in the chosen facility of the program " TrasimenEmotion "(located in Città della Pieve, Castiglione d.L., Passignano s.T., Isola Polvese, Moiano, Paciano, Panicale, Ponticelli, San Feliciano, Torricella); special welcome with the best products from the lake to get to know the best of our flavors and the warmth of the welcome.
Free time to visit the area or for a first bicycle excursion
Day 2: TUORO SUL TRASIMENO
After a rich breakfast, the first exploration loop of the territory is a 35 km excursion that will lead us to the discovery of an ancient castle, a villa of the 1700s and the territories of the battle in 217 bC of Hannibal against the Romans in Tuoro sul Trasimeno.
A not too demanding itinerary for an exciting first day. Place of departure and return is the beautiful beach of Punta Navaccia. Possibility of box lunch or lunch in a local wine cellar. Overnight in the chosen facility.
DETAILS: km 35, DIL + 400 m / - 600 m
Day 3: PANICALE – MOIANO (surroundings of CITTA' DELLA PIEVE)
New excursion to discover the western side of Lake Trasimeno. Total of 52 km with a fairly demanding difference in level but the effort is rewarded by the breathtaking views and the places you cross, including Paciano and Panicale, where it will also be possible to stop in a restaurant for the lunch or for a snack (on request).
DETAILS: km 52, DIL + 1000 m / -645 m
Day 4: MAGIONE - COLLE DEL CARDINALE
New excursion to discover the hills between Magione and Monte Tezio. Departure and return in Colle Mortrorio.
Total of 32 km with a fairly demanding difference in level but the effort is rewarded by the breathtaking views and the places you cross, including Villa del Cardinale, or in a local wine estate for a nice tasting of local delicacies and wines.
DETAILS: km 32, DIL + 500 m / -580 m
Day 5: GOSPARINI
Last beautiful excursion between Umbria and Tuscany with departure and return to Passignano. We will reach the peaks of the most beautiful hills overlooking the lake and the passes.
In fact, the Gosparini pass is well worth a stop before returning to Lake Trasimeno.
Departure at the end of the excursion or possibility of extending the stay including further mountain bike excursions.
DETAILS: km 36, DIL +730 m / –795 m
Price & Date
Price from € 260,00
It is possible to extend the stay. Extention has to be requested at reservation.
Supplement for single room on request.
Supplement for transfers on request.
Supplement for an english speaking hiking guide on request.
Discount for not transporting luggage is possible and is on request.
Supplement for official guide service from € 90,00 per day, and € 52,00 per half day (max 9 persons).
Supplement for optional insurance in case of cancellation of the trip - about 6% of the cost of the trip.
According to your itinerary and the hotel level you will reserve, we will try to accommodate you in one of our cycling friendly hotels where you will enjoy:
_ Secured garage for bycicles (or possibility to bring your bike to your room).
_ Workshop space with tools and set of keys, pump, assembly stand, lubricant and replacement tubes (with supplement).
_ Laundry service for sporting clothing (or nearby laundry).
_ Bicycle washing area.
_ Late check out for the shower including luggage storage.
_ Balanced breakfast suitable for an important physical effort.
High quality bike for rental - Price:
_ MTB aluminium 27.5 disc Brake  from € 12 per day.
_ MTB 29 hydraulic disc brake from € 20 per day.
_ EBIKE / MTB from € 35,00 including: locker,  tool kit with puncture repair, helmet.
_ Bike Delivery and pick up in hotel with supplement.
_ Assistance with "partner" repair shops.
Trip Details
Accomodation: 4 overnights with accommodation in a double room in classic-category accommodations with the possibility of upgrading where available.
Food: 4 breakfasts, 2 dinners, 1 tasting of wines and typical products in the cellar.
Other Services Included: GPS tracks and maps of the area, YES Trasimeno Card, personal assistance insurance, UmbriAction assistance 24h.
Price Does Not Include: city tax, meals when not mentioned, beverages and what is not mentioned above.
Difficulty: Moderate / Average
Category: Self-guided, Bike MTB
Accommodation level: Standard or superior
Attention: the itinerary might change because of bad weather conditions, pandemic, closure days in general
Departure: guaranteed min 2 persons – groups always available on request

Note: rates are valid fromApril till end of October. Other seasons on request